Take a piece of Museums Victoria home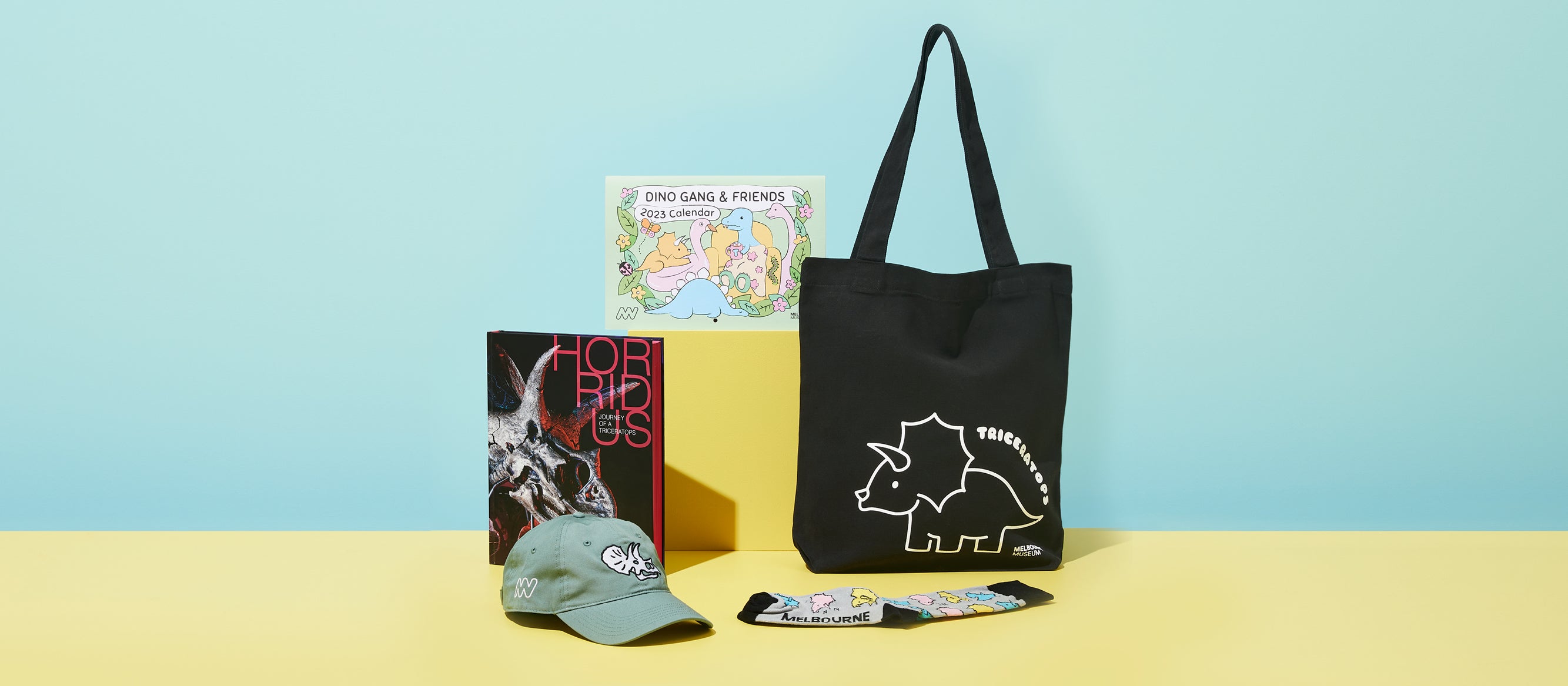 Take a piece of the museum home with Museums Victoria's Store's exclusive collection of publications, apparel, stationery, and homewares inspired by our extraordinary exhibitions, collection items and historic buildings.
Melbourne Museum is home to amazing galleries containing intriguing permanent collections and wonderful temporary exhibitions from near and far. Museums Victoria Store contains a range of educational, entertaining, and intriguing products inspired by interesting and insightful galleries at the Museum. Let us reveal our favourite products and how they are connected to our galleries.
This gallery tells the story of our beloved city and is the stable of famous racehorse Phar Lap. Here are our favourite Museum Victoria store items that allow you to take a piece of Melbourne Gallery home, after your visit.
$22.95

Build your own paper Phar Lap at home and let your imagination run free with this 3D puzzle to colour, assemble and play. Perhaps your creation will have a heart as big as the iconic race horse.

Old Vintage Melbourne: 1960-1990

$54.95

Just like Melbourne Gallery takes you on a journey through Melbourne's history, this book invites you to turn back time through a captivating compilation of photographs from 1960-1990 depicting the historic city we love.

$29.95

Bring the city of Melbourne home in the form of this beautiful candle inspired by Collins St, high end fashion and well-dressed men in suits. Enjoy notes of white pepper, vetiver, sandalwood and cedarwood wafting through the home.
Science and Life Gallery:
This gallery takes you on a journey discovering everything there is to know about roaring dinosaurs, including Horridus, our famous Triceratops, brilliant bugs, fantastic fossils, animals, human biology and learn about the earths structure from our geological collection. Can't get enough Science and Life Gallery, here are our top picks to bring home for you to enjoy and keep learning.
Horridus: Journey of a Triceratops 

$64.95

This incredible book provides insight into the how the exhibition was brought to fruition. It uncovers the process of unearthing, preparing, shipping, cataloguing and mounting the most complete Triceratops known to science.

$24.95

Continue to learn about the earth at home. Play catch and name that country at the same time with this educational and funky inflatable.

$14.95

Safely catch and release garden creepy crawlies including insects, spiders, snails and more found in our famous Bugs Alive exhibition!

 
Scienceworks is your go-to destination for curious minds of all ages. Explore interactive exhibitions and experiences to see how science works. The educational and informative fun doesn't have to end after your day at Scieneworks! Museums Victoria Store's extensive collection of exclusive science and space themed apparel and stationery and engaging kits and activities allows you to be a scientist at home. Here are our three favourite science themed products available at Museums Victoria Store:
$29.95

Inspired by stargazing and trips to our Melbourne Planetarium at Scienceworks take a journey around the solar system in this adventurous space tee exclusively designed by Museums Victoria.

$14.95

Inspired by fun activities conducted at Scienceworks, sketch out your latest theory with this science-themed pencil set exclusive to Museums Victoria

$29.95

Experiment at home and channel your inner scientist and discover the magic of magnetism with this easy-to-use kit.
Built in 1880, the Royal Exhibition Building is the oldest surviving building from the Great Exhibition era that is still operating as an exhibition hall. It was inscribed onto the UNESCO World Heritage List in 2004. Explore this historic building during a guided Dome Promenade experience providing visitors a unique opportunity to overlook the gardens and view Melbourne's skyline. It doesn't end there, Royal Exhibition Buildings fans can explore our Dome Promenade collection available at Museums Victoria Store.
$29.95

A great momentum to take home after touring the Royal Exhibition Building's Dome Promenade. Designed exclusively for Museums Victoria Store, this printed linen tea towel features a native flora motif as seen in the tour.

$19.95

Celebrating the views of Carlton Gardens, this exclusive Tote Bag features the iconic facades of the Royal Exhibition Building and Melbourne Museum.

Carlton Gardens Die Cut Magnets 

$6.95

Bring the Royal Exhibition home and display this exclusive Museums Victoria magnet on your fridge.